A web service is a software that is available on internet and that uses a standardized XML (Extensible Markup Language) messaging system. It is used to create products, processes and supply chains. It can also be said that it is a collection of standards or protocols in order to exchange information between two devices or applications or languages. Web services are used by businesses to communicate with each other and with clients. Web services allow organizations to communicate data without intimate knowledge of each other's IT systems.
Web services are based on TCP/IP, HTTP, Java, HTML, and XML. In simple terms, a web service is a technology that allows making connections; whatever that is connected is a service. Thus, it can connect Java to .Net, PHP to Java, Java to PHP, etc.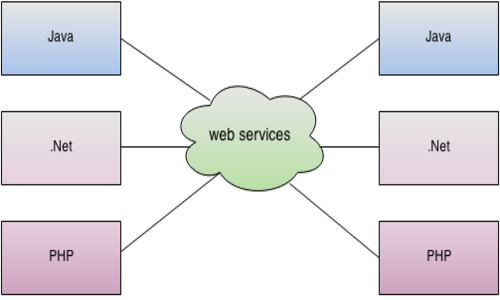 Interoperability in web services
Any web service is composed of three parts, namely, SOAP, UDDI and WSDL. The XML and these three components work in cascade like initially, the XML is used to tag the data, then the data is transferred using SOAP, then WSDL is used to describe the services available and then the listing of the available services is done by UDDI.
1. SOAP :
SOAP stands for Simple Object Access Protocol. It is a protocol that is based on XML and allows accessing web services. It allows XML data format only. Since it is XML-based, it can be used with Java, .Net or PHP language on any platform. The key feature of SOAP is that it can be written in any programming language and executed in any platform. For working, it uses WSDL to discover any service. SOAP defines certain standards that need to be followed strictly. It is a recommendation of World Wide Web Consortium.
2. WSDL :
WSDL stands for Web Services Description Language. WSDL is basically a XML document that contains information about web services like method name, method parameter, how can it be accessed, etc. This way WSDL describes the available services to be connected. WSDL contains the location of web services and the methods defined by the web service. The message passed by SOAP is defined in WSDL. It provides information regarding what types of SOAP messages are sent to the web service and accepted by it. Any WSDL file contains the following items :
Definition
Target name
Data types
Messages
Porttype
Bindings
Service
The characteristic feature of WSDL is that it is World Wide Web Consortium recommendation.
3. UDDI :
UDDI stands for Universal Description, Discovery and Integration. This component is used for describing, discovering and integrating web services. All the web services listed by WSDL are stored by UDDI. It uses WSDL to describe interfaces to web services. It is platform independent and is an open framework. Basically, UDDI defines a set of services that support the description and discovery of the following items :
Businesses, organization and other web services providers
Web services they make available
Technical interfaces used to access those services.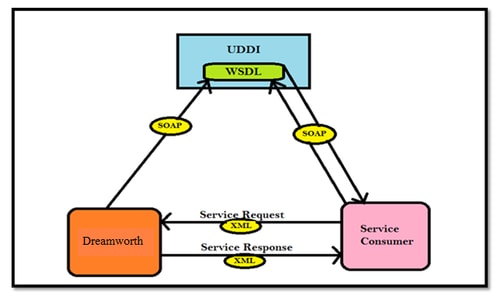 Working of Web services
Importance of Web Services :
1. Interoperability :
In today's technological world, getting connected with other businesses has been made possible due to web services. The complex connections between softwares that uses different programming languages have been simplified by web services. This interoperability of languages enables connectivity across the world in internet. Thus, different data between different applications and different platforms can be exchanged easily.
2. Higher level :
The web services take the web applications to a higher level keeping behind the conventional methods of connectivity. A web service allows publishing its message to the rest of the world.
3. Offer components :
In case where applications need certain things quite often, web services are of great help. They offer application components like currency conversion, weather reports, language translation as services, etc.
We at Dreamworth provide web services are characterized by their great interoperability and extensibility. For complex operations, our team helps to combine web services too. We make communication on the web smoother for your smoother functioning. Be the data in any format or language, be it highly complex, we consider it our duty to simplify it for you and make it available to you. Get in touch with us to deliver you sophisticated added-value services.