Have you ever wondered how a website adjusts to multiple devices and works equally well on each one of them? Or simply, why your website has trouble doing the same?
Well, the reason behind these is pretty simple. When your website had been designed, this function hadn't been included. But then again, you aren't the only one who doesn't know the benefits that come alongside this feature. Studies have shown that a lot of entrepreneurs aren't aware of Responsive web design.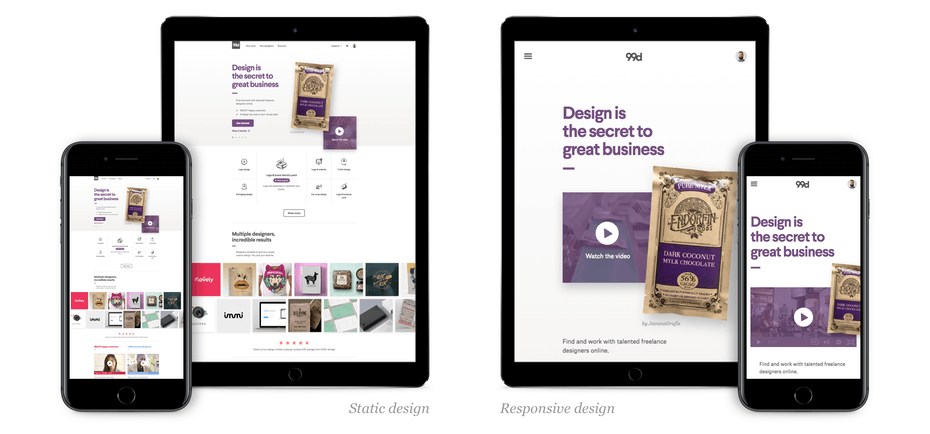 If your website isn't responsive, it is, in fact a bigger problem than you're thinking of it to be, since search placement, visitor retention as well as your website's user interest rates and the time they spend on your website, all go down drastically if it doesn't readily adapt to different devices. Gone are the days when people majorly browsed the internet only through their desktops, tablets and mobile devices are extensively used for this now.
Due to all the reasons mentioned above, let us look at a few important tips, tricks and statistics to designing responsive websites and the advantages that follow along.
To begin with, try designing at least 3 layouts

The primary focus of any responsive web design is to have at least 3 layouts to meet the requirements of different browser widths.

Category I (Under 600 px)- This is how your content will look on most mobile devices

Category II (Between 600 to 900 px)- This is how your content will look on most large phones, tablets and small netbook- type computers

Category III (Over 900 px)- This is how your content will look on most laptops and desktop screens

Each one of these layouts must include the same graphical elements and text, but each should be exclusively designed to best display that content across various devices.

Conduct a detailed analysis of your audience

One of the most important factors for designing a responsive website is knowing your audience and what device most of them use to view your website. So before initiating all that coding and all those fancy themes, what you need to do is sit down and analyse how much of your current traffic is mobile vs. tablet vs. desktop?

According to a recent report, as of April 2019, the global mobile population amounted to around 4 billion unique users and mobile devices accounted for 48% of web page views worldwide. On the other hand, PC usage has been on a decline, while in 2018 it accounted for 41% of total IP traffic, it is projected to drop to 19% by 2022. Therefore, making your website mobile responsive has been more important now.

User Experience (UX) is key

As developers, we have often been told that user experience is everything it takes in distinguishing your website from a hundred others out there, however, a theory is one thing, practice is another. When it comes to web design, marketers and developers make a lot of mistakes to this day. The main reason behind this being the fact that they do not look from the visitors' perspective and forget to consider minute details, which make a huge difference. It especially concerns mobile devices.

Some of the most neglected factors include:

Slow loading time

Poor navigation

Text size not adjusted as per small screens

Faulty redirections

So, it can be rightly said that responsive design means much more than simply converting a desktop site to a mobile screen. We need to consider factors such as the user's experience, the essential content they are looking for while browsing through your website and their interactions or most-sought-after tabs.

Resources and Tools

The web browser or mobile device you work/ view your website on currently, might seem like an obvious one to use, but it also happens to be the most effective resource to preview your designs on because it shows you exactly how your website will look like under those specific conditions. Apart from these, try to install a few different browsers and use different mobile devices to get a good range of feedback. Then start resizing and adjusting your website accordingly.

Several resizers are available in the market today. These happen to be excellent resources to quickly preview your website on multiple devices in a hassle-free manner.

Another important tool you can consider while designing your website to make it responsive is 'fluid grids'. These are based on designing a website layout on percentage values rather than set pixels. When you apply fluid grids to the mobile screen size, the elements in the design layout will resize themselves in relation to one another.
Conclusion
Each experience and every activity while designing a website is a process. Whether you wish to develop an online store or simply make people sign up for a newsletter, you should treat the development process as a set of steps that constitute this process. Every experience will finally get you closer to your goal, which is that of making the process the easiest and the fastest possible for your users. Only then can your design truly be called a responsive one!
---
Comments:
Leave Your Comments:
29 + 946 = ?

Industries We Serve
Education
The cut-throat competition among various educational institutes demand top SERP rankings to generate good quality leads and our experience in this domain helps us to give the required results.
Travel
Our experience in the travel industry domain helps us to optimize the travel websites and portals with the objective of generating more revenue and visibility through bookings, organic traffic, leads, etc.
E-commerce
Our SEO team is specialized in working on the e-commerce platforms as the ranking of the category and the product listing pages for the targeted keywords is important with respect to the sales.
Healthcare
Our expert team delivers an unmatched result as they have a good experience in optimizing the healthcare websites to increase the search engine rankings for the various goals like online consultation, lead generation, increased traffic.
Real Estate
We do specialise in offering SEO services by optimising the real estate websites or portals to generate quality leads through the implementation of white hat SEO processes.
Technology
Our experience speaks for us when it comes to the Technology related websites where there is always a high demand to be visible on the first page of search engines.
Hospitality
With an unmatched experience in hospitality industry, we assure you the optimised websites and guaranteed results for the ranking of the target keywords on the first page of the search engines.
Start-ups
Our team of SEO experts are specialised to help the start-up websites to rank the keywords on the top of SERP and help them to get an edge over their competitors thereby increasing the ROI.

Request a Free Consultation